Gravity Ranch Designs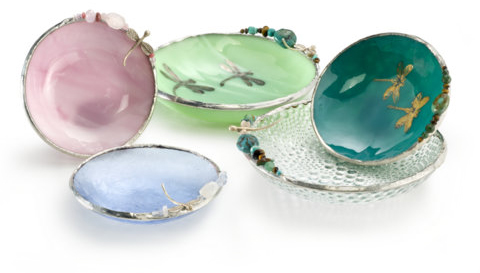 This line is easy to love, and a best seller here at Quiet Pleasures. Ellen Bartfeld of Gravity Ranch Designs has been a stained glass artist for over 35 years. Her bowls are one of a kind pieces handcrafted to reflect the natural beauty surrounding Gravity Ranch, the home she and her husband built in the remote hills of Santa Ynez, California.
These bowls are available in various sizes, shapes and fabulous colors. Crystals and beads of infinite variety adorn the bowls, either alone or in combination with charms and etched images. Many are embellished with vintage "jewels" and Ellen can also make bowls to your specifications, a bonus if you are looking for multiples of an item for a special occasion.
Come check them out! You'll love them.